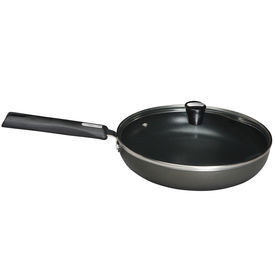 Selec+ Fry Pan With Stainless Steel Lid, High Performance Non-stick Range, LFP 22SS, 220
Write a Review
Selec+ Fry Pan With Stainless Steel Lid, High Performance Non-stick Range, LFP 22SS, 220
INR
LFP22SS
In Stock
970.0
In Stock
Ships in 3 - 5 Days
Description
This 2 way Fry Pans has a flat bottom with base grooving for uniform and fast heat distribution.
Its long & ergonomically designed handle gives a firm grip & ease of lifting. Use metal spoon freely.
Guarantee: 18 Months
" Product will be supplied in SS / Glass Lid, all rights reserved with Nirlep "
Most Popular..You may also be interested in these
Reviews
Be the first one to review this product


Look for Similar Items by Category